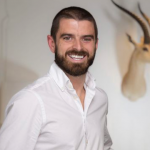 Justin Self
Real Estate Agent
A little bit about me...
Meet Justin Self, a dedicated and experienced real estate agent with over 9 years in the industry. He has a wealth of knowledge and expertise to offer his clients, and he is committed to helping them achieve their real estate goals. Justin has a genuine passion for real estate, and he takes great pride in providing his clients with the best possible service. He is always willing to go the extra mile to ensure that his clients feel comfortable and confident throughout the buying or selling process.
When he's not helping clients buy and sell homes, you can find Justin hitting the gym for a CrossFit workout. He's been doing CrossFit for years and it's a big part of his life. He enjoys pushing himself to be stronger and healthier, and he finds that CrossFit provides the perfect balance of challenge and accomplishment. Justin is also a family man, who enjoys spending quality time with his wife and kids. He believes that family is the most important thing in life, and he makes sure to spend as much time as possible with his loved ones. They enjoy traveling, hiking and doing outdoor activities together.
Justin also loves hunting and running. He finds that being out in nature allows him to clear his mind and focus on the things that are truly important in life. In addition to his personal interests, Justin also takes his professional responsibilities very seriously. He stays up-to-date on the latest real estate trends and market conditions, and he is always looking for ways to improve his skills and knowledge. He believes that continuing education is essential for success in the real estate industry, and he is always looking for new learning opportunities.
Whether you're looking to buy your first home, sell a property, or invest in real estate, Justin has the expertise and commitment to make it happen. He is dedicated to providing his clients with the best possible service, and he will work tirelessly to ensure that their real estate goals are met. If you're looking for an experienced, knowledgeable, and dedicated real estate agent, look no further than Justin Self.